---
Pictures
---
Links
---
Other links
---
HUMMER summit
---
History
---
Conact me
---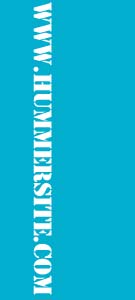 ---
If you have any things that I should have in my history send me a e-mail:
history@
hummersite.freeservers.com
History of the HUMMER
---
Short version
---
Short version
---
The civil car HUMMER comes from the American army jeep HMMWV. HMMWV stands for High Mobility Multipurpose Wheeled Vehicle. The HMMWV got build because the American Army wanted have a jeeps more modern, with more capacity, better strength, better steering ability, easier to fix and more flexible than the old traditional Willy Jeep in 1979. This jeep had been used by the American Army since 1940.They wanted a jeep that could manage the most extreme conditions and terrain, have the best battle skills, have the highest standard and all the things mention earlier. The different jeeps was tested for any tiny details, also important test as durability, how fixable the jeeps was, how long time it took to change tires, how often it needed to be repaired. It was a competition between the jeep producers and AM Generals HUMMER was definitely the best jeep.
22. March AM General got a contract of building 55 000 HUMMERS for 1,2 billion dollars. Including 15 different models.
Under the testing the name of the HUMMER was M998 and after the release M998MA1 and M998MA2.
One of great advantage is the unique multipurpose platform. It could be used for crew, tow emplacements, ammo, extra fuel, goods, and many more.
Another great advantage is the runflat tire system and the CTI system (central tire inflation).
The HUMMER had also multiple transport methods made it even more mobile such as: be lifted with a chopper, be dropped with parachutes from planes etc. The HUMMER can also drive in high water (76,2 cm deep, and 150 cm with some special equipment.
It got the name Humwee from American soldiers who thought HMMWV was to hard to pronounce.
In 1989 AM General a additional contract of building of 33000 Humwees . In 1994 a new contract of building so that the US Army had a total of 150000 Humwees. After 1995 a upgraded version was developed that version was more solid and armed than the regular HMMWV, because the HMMWV was a easy target for AK-47's and grenade launchers. The new model had the name XM1109. The model had better protection for the crew compartment.
The HMMWV got known through TV and pictures from the Golf war where HMMWV's was much used. (Over 20000). Many people thought that it was a cool car, and Arnold Schwarzenegger contacted AM General to get a HMMWV for private use. After pressure from him and many other HMMWV enthusiasts AM Genral produced in 1992 the first civilian HMMWV, the HUMMER.